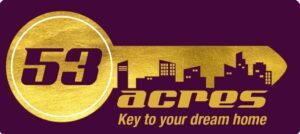 BUY / SELL / RENT
PROPERTIES IN PUNE
AT BEST PRICE Dont Wait to Buy Real Estate, Buy Real Estate and Wait !!!
If you are looking to sell or Rent out your Property at Good Price in Pune kindly Fill this Form




If you are looking to Purchase / Lease a Property in Pune Kindly Fill this Form




get Pune property updates directly in your inbox Abdul Rahman
Positive: Professionalism Husain bhai has a professional approach towards his clients which makes our job very easy. Our deal was a great experience with him. His prompt response makes the job even more easier. I would recommend him for all Real estate deals Shirin kahchwala
@shirink
53 Acres is genuine real estate consultant. Professional Team with Good Experience, Found a right Property for me in a week. I am really happy with their after sales and service. I have approach them through a friend reference and was happy with my decision. They have variety of property in my budget. Thanks for all your suppor Arif Shaikh
@arif.shaikh
Hussain Bhai, having lots of knowledge in real estate and one thing interesting that he have technology knowledge also show lots of options, new ready to move site, under-construction sites. And right direction.